Astros target hitters' unprecedented K ratio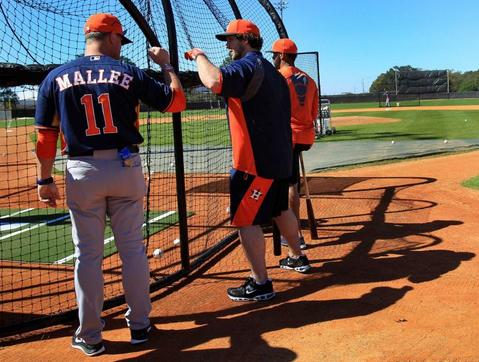 By Evan Drellich
February 17, 2014 | Updated: February 18, 2014 9:05am
Hitting coach John Mallee wants fewer strikeouts from Brett Wallace, right, and the rest of the Astros after the club fanned a big league-record 1,535 times.
Karen Warren, Staff
Hitting coach John Mallee wants fewer strikeouts from Brett Wallace, right, and the rest of the Astros after the club fanned a big league-record 1,535 times.
KISSIMMEE, Fla. – The two pitching machines cost the Astros roughly $8,000 each this winter, and they don't spit out gold baseballs.
The Astros set the major league record for strikeouts last season with 1,535. Playoff clubs are included in that, so even teams that have played deep into October have never fanned so much.
The Astros missed on 27 percent of their swings — 2,939 swings that did not connect in all. Those are also MLB records, per STATS Inc.
This spring, they're doing everything they can to better their approach at the plate. That includes a five-figure expenditure on pitching machines.
The most common pitching machines, the kind you might find at a local batting cage, have long allowed for different pitches to be thrown: fastball, curveball, sinker. But every pitch type needs to be set. A batter takes maybe 10 consecutive fastballs before someone has to reset the machine for another pitch.
These advanced contraptions, made by a company called Sports Tutor Inc., have programmable sequences with 7 seconds between pitches. And they can reach 90 mph.
Ultimately, they more closely re-create game situations.
"You want it to be as realistic as possible," general manager Jeff Luhnow said. "You don't see all one type of pitch and then all another type of pitch in real life. … I think it can only help them."
But neither Luhnow nor manager Bo Porter nor hitting coach John Mallee, who is in his second season, believes the machines are a cure-all.
Paul Burgess, who directs the Astros' minor league operations, eyes a newfangled pitching machine.
Karen Warren, Staff
Paul Burgess, who directs the Astros' minor league operations, eyes a newfangled pitching machine.
Situational practice
This first needs acknowledgment: The Astros are a more talented team this season than last. If a team is terribly overmatched, as the 2013 version was, the hitters take ugly swings.
Veteran Dexter Fowler's presence in center field in place of Brandon Barnes, for example, should lessen the team's strikeouts.
The organization now has a year of experience in a league that was previously unfamiliar. It's still a young team, but the regulars are a year older – and there is more certainty of who is a regular.
"You can think that we're going to get better just because of that, just true experience," Mallee said.
Still, the Astros have some hitters who are prone to strike out a lot: Chris Carter, Jason Castro, J.D. Martinez and Brett Wallace among them. Prospects Jonathan Singleton and George Springer probably will fit that description, too.
Mallee can't stand there and tell his players to strike out less often – right?
"No question," Mallee agreed. "Strikeouts are going to happen. And Bo always says this: 'How did you strike out? How did you get there?' We understand that now through analytics. I have a good understanding of exactly how my guys make their outs.
"There's also the feel that the numbers can't show you, which is personality or tempo or things like that. But the numbers do help."
The team wants to have a "selective aggressive" approach, Mallee said. Physical adjustments will be key. In a two-strike situation, aside from a full count, hitters are in a bad spot and need to try to do less.
Porter is a big believer in teachable moments, at the plate and all around. The machines play into that philosophy.
"We're going to put them in game situations," Mallee said. "Practicing under pressure is a key to all of it. We're going to do a lot of two-strike-approach stuff, getting our guys to understand what the actual called strike zone is – which is bigger than people think – what they have to cover in certain counts and what they don't."
Wallace a case in point
On the first day of workouts, Luhnow heard the oohs coming from the field behind him. Wallace – who is no longer on the 40-man roster but still has great power and seems a favorite to at least win part of a platoon job at first base – was putting on a show in batting practice.
"I think it's a player-by-player situation," Porter said of how his hitters will avoid whiffs.
Wallace, who struck out 36.5 percent of the time last season, is poised to be an early example.
Independently, Wallace and Mallee came to the same conclusion this offseason: Wallace needed to reposition his hands.
"You could almost see it in my hands before the pitch," Wallace said. "You can see that I was kind of thinking, 'OK, I need to get my hands moving,' or, 'I need to get 'em to a spot, but I don't know where it is.' Absolutely, it was making me a little late. It was making me rushed."
It would be easy to say that Wallace, whose strikeout woes were at their worst early last season, needs better pitch recognition or pitch selection. But this is what Mallee and Porter mean by individualizing the solution: For Wallace, the root issue seems to be elsewhere.
"I'm a big believer that pitch selection can relate to comfort level," Wallace said. "The more comfortable you are, the more relaxed you are, the better you see the ball, the more relaxed your eyes are.
"Strikeout-wise (for me, there are) still things I need to improve, and I think a lot of that has to do with comfort level … the stuff we worked on with my hands and getting me back to the natural position."
Wallace is rather experienced compared to some of his teammates.
Ralph Dickenson, who was the Astros' minor league hitting coordinator last season, is now the big league team's assistant hitting coach. That should serve the team's younger players particularly well.
Especially for the Astros, the goal isn't only to maintain swings but to develop them.
"These guys, a lot of them are first year in the big leagues, full season," Mallee said. "It's a big learning curve. I really think we're going to improve with our strikeouts."